There can be numerous reasons that you may want to change the password of your AOL Mail account. Maybe you noticed some suspicious activities in your account, or you wish to create a stronger password for your account. No matter the reason due to which you are changing the password for your AOL Mail account, you can do so easily by following the step-by-step instructions provided below.
Steps to Change Password for AOL Mail Account
1.) Go to the AOL website via link https://www.aol.com/.
2.) Once the AOL homepage gets opened on your screen, click on the Login/Join option located on the top-right corner of AOL webpage.
3.) On the next screen, enter your username in the provided field and click on the Next button.
4.) Then, enter your password on the next screen and click on the Sign in button. Once you will log in, you will be directed back to aol.com where you will need to go to your Account Settings page.
5.) Now click on your Profile Name first and then, if prompted, you will need to answer your Account Security Question and click on the Continue button.
As AOL made some updates to its platform, you may see any of the following two screens: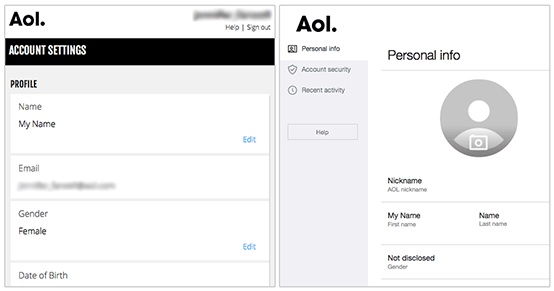 When Account Settings Page Appears on Your Screen
Click on the Change Password option in your Account Security

Next, enter your current password in the Current password field and new password in the Next password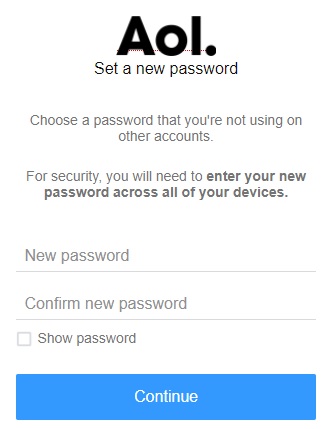 After that, simply click on the Save button to save the changes made. The password for your AOL Mail account will be changed.
When you See Personal info Page with Account security and Recent Activity
Go to the Account security section.
Click Change password option under "How you sign in" section.
Now, enter the new password which you would like to create in the provided fields and click on the Continue
After that, click on the "Ok, go it" option. The AOL Mail password will be changed right away.
NOTE: In case you are unable to access your AOL account using your password, your account might have been hacked by someone. In such a case, you will need to reset the password for your AOL Mail account.