Google Chrome may one of the most used web browsers in the world today, but this fact doesn't make it secure against some technical flaws in its platform. One of such technical glitches in the Chrome that affects user experience is a problem with Adobe Flash Player. Many users have reported a problem with the Adobe Flash Player such as the inability to play videos. The common message related to flash player is generally "Couldn't load plugin". If you are seeing this error in your Chrome browser, you can fix it by following the information provided below.
Steps to Fix "Adobe Flash Player Not Working" Issue
Before beginning with the below-mentioned workaround, make sure that you have the latest version of Google Chrome browser installed on your computer and the installed plugins in the browser are also up-to-date. And, also ensure that the plugins that are not loading are set to "allowed to run".
1.) Keep Components Up-To-Date

2.) Rename pepflashplayer.dll
As this error mainly occurs because of PepperFlash, renaming the pepflashplayer.dll file may fix the issue in many cases. To do this, go to the following path:
C:UsersAppDataLocalGoogleChromeUser DataPepperFlash
Once you are in the PepperFlash folder, you will find another folder with the same version number. Simply open that folder and change the pepflashplayer.dll to something else, for example, pepflashplayerold.dll. After that, check if the problem has been fixed or not.
3.) Delete PepperFlash Folder
If the above-given suggestions don't work, you can try deleting the whole PepperFlash folder from your computer. For this, start by following the path –
C:UsersAppDataLocalGoogleChromeUser Data
Then, locate the PepperFlash folder and delete it completely. After that, restart your web browser and check whether or not the problem is fixed.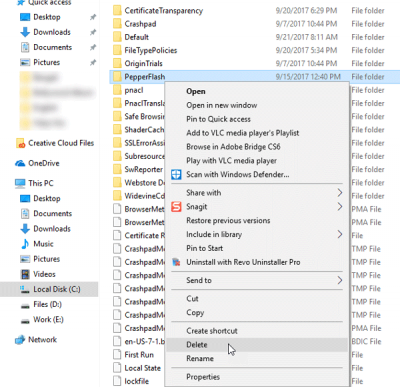 In most of the cases, following the above-mentioned suggestions should fix the problem. However, if the problem persists, it is best to completely uninstall the particular plugin and reinstall a fresh copy of it.