Some issues and errors are common in Outlook.com. While some of these issues and errors are easy to fix, some may require you to seek assistance from professionals. When having issues with your Outlook.com account, you can seek assistance by reaching the Outlook.com support. To know how you can contact and get assistance from Outlook.com support, follow the information provided below.
Guide to Contact Outlook Customer Support
1.) Outlook.Com Forum Support
As Outlook.com may not offer assured, free, and instant access to a customer support professional, you can try looking for a solution by visiting the Outlook.com Forum Support page. On the Forum page, you may get assistance from experienced users by adding your question in the Forum page. You can visit the Outlook.com Forum Support page via link https://answers.microsoft.com/en-us.
2.) Outlook Contact Support
Apart from Forum support, you can also seek assistance by getting in touch with Microsoft Outlook.com tech support or receiving assistance from other Outlook users.
Check Status of Outlook for Common Issues
Sometimes the problem in your Outlook account arises due to some technical error at Outlook's end. In such situations, it is recommended to check the status of Outlook by visiting the "Outlook Status" page via link https://portal.office.com/servicestatus. Check the sign next to the Outlook.com option. If it shows a "Right" sign, it means the Outlook is working fine, however, if the sign appears to be "Wrong", this means there is some technical problem with Outlook. In case of technical issues, it is best to wait for sometime before accessing or operating your account again.
Whether you are having an issue with Outlook for PC/Windows, Outlook.com, Outlook on the web, or on other versions, you can get assistance on the Outlook Help Center page via link https://support.office.com/en-us/outlook. On this page, you can either enter your query in the "How can we help you" field or you can go through the common issues list provided on the page in the bottom section.
3.) Connect with an Expert via Live-Chat
Another way to get assistance for your problem is to connect with a Microsoft expert via live-chat support assistance. To use this service, visit the support webpage of Microsoft Office via link https://support.office.com/ and scroll down to locate "Connect with an expert" option. Click on the Contact us option under "Connect with an expert". This will open a small window on your screen. Enter your query in the prompted text field and click on the Get Help button. You will get a list of relevant articles related to your queries. If you don't find any article related to your query, simply click on the Talk to an Agent button for live-chat session with one of the Microsoft expert.
How do I Call Outlook Customer Support for Technical Help
Apart from searching articles, joining Forum, or going for Live-chat support assistance, you can also contact Microsoft Outlook customer support by calling their number. To call Microsoft expert:
Go to the Office Support page via link click here and enter your query in the provided box.
NOTE: Make sure you are signed into your Microsoft account.
Next, click on the Get help button; you will get a list of relevant articles. If you don't find a solution to query in the given article, simply click on the Call option under "Support options". You will be able to contact one of the Microsoft experts.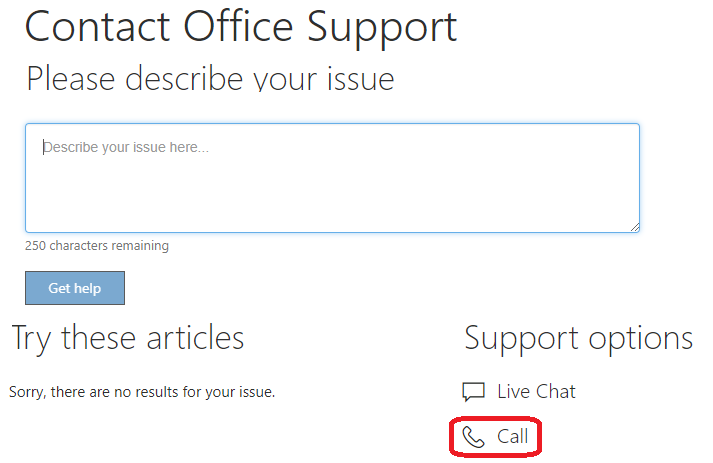 So, these are the ways you can connect to Outlook.com customer support to get your issues or queries answered.